Sku:

35-0026

Vendor: Spectrapure
SpectraPure® SpectraSelect Plus 99% Rejection RO Membrane 90GPD
Spend

$150.00

to

FREE SHIPPING
SpectraPure® Spectra Select Plus™ 99 Percent Rejection 90-GPD RO Membrane - MEM-SP-0090
NOTE:  Membrane must be stored in the refrigerator if not being installed immediately
OVERVIEW:
SpectraSelect Plus™ membranes set the industry standards for highest rejection, flow rate, and longevity.  SpectraSelect Plus™ 99% Rejection Membranes effectively DOUBLES post Deionizing cartridge life!
SpectraPure® SpectraSelectPlus™ membranes are treated with a proprietary process to enhance rejection, increase production and speed rinse up times. These treated membranes are then hand-picked and individually tested for consistent ultra-high rejection. No other membrane can match the SpectraSelectPlus™ for long life and the ability to remove silica phosphates, nitrates, and heavy metals.
SpectraSelectPlus™ Membranes are standard equipment in our Maxcap, and UHE RO/DI Systems and can also be used available as an upgrade replacement option for most Reverse Osmosis Systems, and are interchangeable with Captive Purity™, Kent Marine®, Air Water Ice®, Bulk Reef Supply®, and most residential/aquarium RO or RO-DI systems.
FEATURES:
- Typical stabilized conductivity rejection 99%, minimum conductivity rejection 98%.
- Membranes produce rated GPD ± 20% at 60 psi.
- *Permeate flow and conductivity rejection based on 500 ppm, 77°F (25°C) softened water feed, 15% recovery and the specified applied pressure.
View full details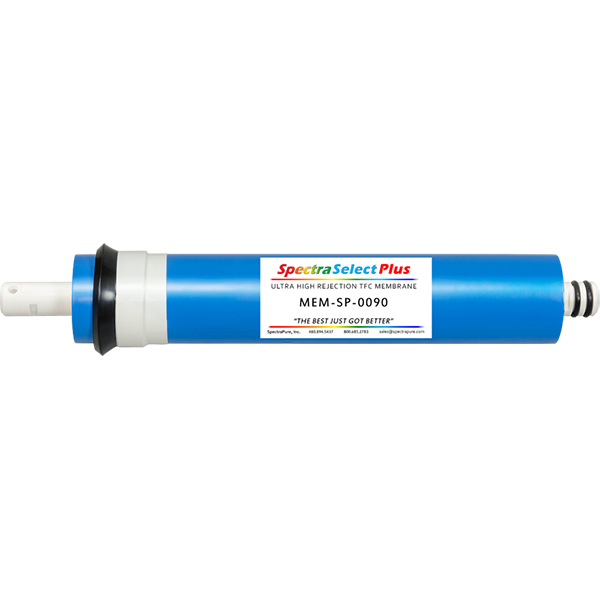 SpectraPure® SpectraSelect Plus 99% Rejection RO Membrane 90GPD
SpectraPure® SpectraSelect Plus 99% Rejection RO Membrane 90GPD
Great Product & Customer Servive
Ordered replacement filters for my RODI unit. Was very easy to find the product. Order and shipment completed in 2 days. Spoke to customer service about what I needed and they were very helpful and knowledgeable. Highly recommend Spectrapure.
Fantastic Product
Fantastic product, have used SpectraPure gear for years. Will continue to do so.
THEY JUST WORK!
Title says it all.
Never a problem & great support if you need it.
Great!
Great Customer service! Great products!