Sku:

14-0065

Vendor: Spectrapure
SpectraPure® SilicaBuster High Capacity DI Cartridge - Non-Color-Indicating - 10" - DI-SB-10HC
Spend

$150.00

to

FREE SHIPPING
OVERVIEW:
SpectraPure® SilicaBuster™ deionization cartridges feature semiconductor-grade resins for exceptional purity water. These cartridges have the capacity to reach 18 megohm resistivity and eliminate silica, nitrates, and phosphates to undetectable levels. Their superior performance compared to other cartridges ensures enhanced contaminant removal, longer lifespan, and greater purity. As the resins are not dyed for color-indication, resistivity or silica monitoring is necessary to detect exhaustion.
For ultra high purity water (18 megohm resistivity)
Highest silica, nitrate, phosphate and heavy metal removal of any 10 inch DI cartridge available
Non color-indicating semiconductor grade resins for highest purity and lowest TOC levels
Optimized for post RO or post distillation filtration
Higher capacity than other similar size cartridges
High Capacity Shell for 33% Longer Life


Aluminized Mylar packaging eliminates DI cartridge degradation

Note: Deionization cartridge life is greatly reduced when operated on low pH waters, or water with high CO2 (carbon dioxide) levels. Exact cartridge life will vary greatly with pH, carbon dioxide levels and TDS etc., in your RO water or the feed water supplying the RO system. Aeration or degasification of RO product water is recommended for such waters for removal of carbon dioxide.
PLEASE NOTE: SOME RESINS DISCHARGE A STRONG ODOR AND ARE BEST HANDLED IN WELL VENTILATED AREAS WHENVER POSSIBLE
Warning: SpectraPure® does not recommend drinking water produced from deionization (DI) as DI resins are typically not made of food grade approved material.
View full details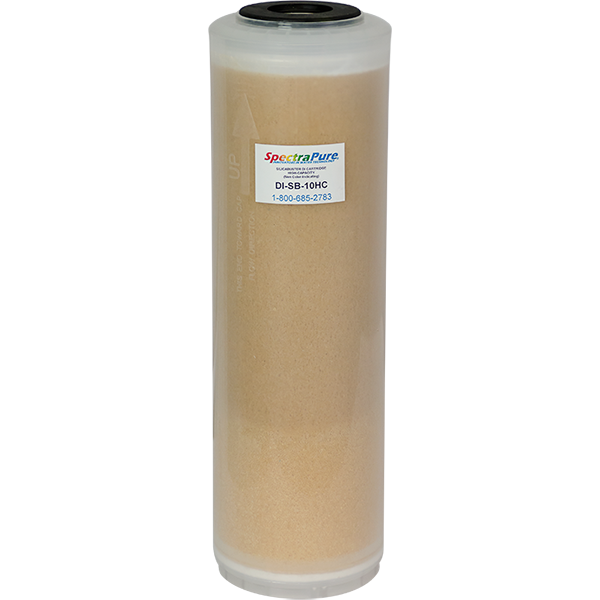 SpectraPure® SilicaBuster High Capacity DI Cartridge - Non-Color-Indicating - 10" - DI-SB-10HC
Must have
This filter is one you need use all the time to keep brown Diatoms away in your tank.
Upon advice
Ordered here nd specific filter from advice. Advice is from brother who has maintained salt tanks for years. I simply wanted effective ro system. Delivery was fast. Filters are best in the world im told and believe
Serviced my RO System
I purchased a used Spectra pure system from a friend of mine. Before hooking up my system I had spectra pure take a look at it. Matt was fantastic to deal with. They ended up finding several leaks and the membrane was replaced. Very glad I had the professionals look over my RO system.
Good filters
Filters were great! Easy to assemble.
SpectraPure® SilicaBuster™ High Capacity DI Cartridge - Non-Color-Indicating - 10"