Sku:

14-0056

Vendor: Spectrapure
SpectraPure® MaxCap® DI - Non-Color-Indicating Cartridge - 20" - DI-MC-20
Spend

$150.00

to

FREE SHIPPING
The original SpectraPure® MaxCap® DI Cartridge (Non-Indicating) - 20 inch - Twist Top Shell - 2.8 inch D x 20 inch L
FEATURES:
SpectraPure's MaxCap® DI Cartridge is the heart of the MaxCap® series of products. When placed ahead of your existing DI cartridge, the life of your downstream DI cartridges will increase by 4x or more - lower your DI production costs by over half!

3.5x the capacity of conventional mixed-bed and high silica removal cartridges
Designed to be used in front of a mixed-bed or SilicaBuster™ DI cartridge
Removes all ionized impurities
The MaxCap® DI cartridge removes ammonia that is left by water sources that contain chloramines
Twist top refillable shell
Aluminized Mylar packaging eliminates resin degradation
Interchangeable with Captive Purity, Kent Marine, AWI, BRS and most other residential/aquarium DI or RO/DI systems
PLEASE NOTE: SOME RESINS DISCHARGE A STRONG ODOR AND ARE BEST HANDLED IN WELL VENTILATED AREAS WHENVER POSSIBLE
Warning: SpectraPure does not recommend drinking water produced from deionization (DI) as DI resins are typically not made of food grade approved material.
View full details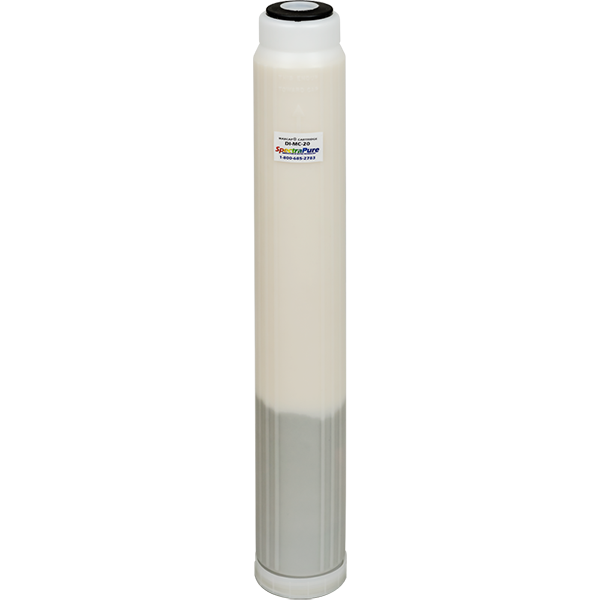 SpectraPure® MaxCap® DI - Non-Color-Indicating Cartridge - 20" - DI-MC-20