Sku:

45-0056

Vendor: Spectrapure
SpectraPure® MaxCap ® 1:1 Ultra High Efficiency 200GPD RO/DI System - MC-RODI-200UHE-10HC
Spend

$150.00

to

FREE SHIPPING
OVERVIEW:
SpectraPure MaxCap UHE 200-GPD 5-Stage Ultra-High-Efficiency RO/DI System with microprocessor control module for low-waste 1:1 efficiency, integral booster pump, automatic membrane flush, two SpectraSelect Hand Tested RO membranes, 0.2um (abs) ZetaZorb sediment 0.5um carbon block pre-filters, and SuperDI MaxCap and SilicaBuster De-ionization Cartridges. The MaxCapUHE System has been designed to conserve our most precious resources water. This 200 gallon-per-day RO/DI System combines innovative UHE 1:1 Ratio RO Technology with our field-proven MaxCap DI Technology to create a water processing system that produces high-quality ultra-pure water, while reducing water consumption and waste by four to ten times over other systems.


FEATURES:

● MICROPROCESSOR UHE CONTROL MODULE:
- Ultra-High Efficiency Module - Low Waste system (1:1 or better.
- Integral Booster Pump: Operates even in low supply pressure problem area.
- Automatic Periodic Pure Water Membrane Flush!*
- Membranes last longer! No more TDS Creep! The first drop is as good as the last drop.

● HIGHEST EFFICIENCY PRE-FILTRATION AVAILABLE:
- Our best 0.2 Micron (Absolute) ZetaZorb Sediment Filter. 5X more dirt holding capacity than a standard 0.5 Micron Filter!
- Our best 0.5 micron Carbon Block Pre-Filter with 20,000 ppm-gallons chlorine removal capacity. All the carbon block you ever need.
- Pre-Filters last 2x-3x longer in the UHE system as less waste = less water thru pre-filters = longer life = more money save!

● BEST OF THE BEST RO MEMBRANE:
- Highest quality individually tested SpectraSelect High-Rejection (98+%) RO Membranes.
- 200 Gallons Per Day (or more!)

● ULTRA CAPACITY DUAL STAGE DI:
- MaxCap and SilicaBuster SuperDI High-Capacity De-ionization Cartridges with 33% greater capacity.
- MaxCap DI has 4 times more capacity than a typical mixed bed DI cartridge. Cuts DI water production costs in half!
- SpectraPure's Silica-Buster DI maximizes silica and phosphate removal.
Warning: Spectrapure does not recommend drinking water produced from deionization (DI) as DI resins are typically not made of food grade approved material.
View full details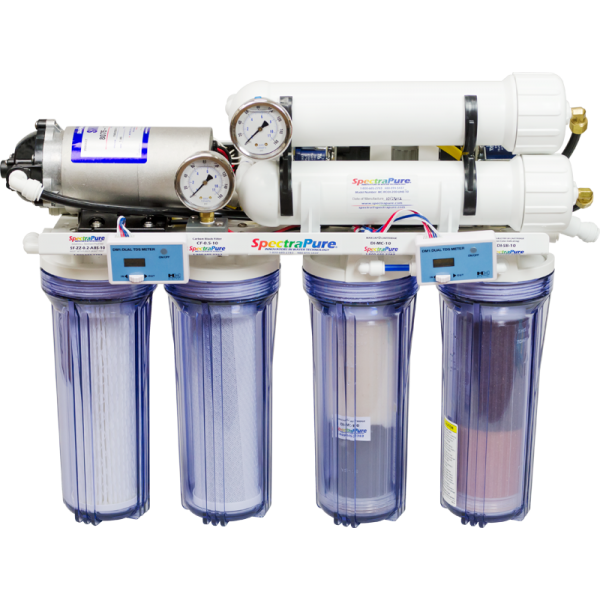 SpectraPure® MaxCap ® 1:1 Ultra High Efficiency 200GPD RO/DI System - MC-RODI-200UHE-10HC