Sku:

20-0080

Vendor: Spectrapure
Spectrapure® Dual Chamber Media Reactor - MR-DUAL
Spend

$150.00

to

FREE SHIPPING
OVERVIEW:
Dual Chamber Media Reactor w/ clear filter housings, high capacity, high flow media shells, independent control of carbon and GFO
Designed for simple and efficient use of GFO and Carbon media on any aquarium. Trouble free high quality filter housings, and high capacity low resistance media cartridges, makes this reactor the best option when employing larger or even small volumes of media. Paired with an adequate pump such as the Italian made Cobalt Aquatics MJ 1200 (not included), optimal flow rates provided via user-controlled, independent outputs, allows maximum flexibility for the control of Nitrate/Phosphate and DOC's in your aquarium.
FEATURES:
Independent flow control of each chamber
Single point input and output for less clutter
Down flow water movement through carbon chamber
Maximized flow rates through carbon media without grinding
Clear high quality, high pressure housings allowing use with larger pumps
Black tubing for reduced algae growth
Mounting bracket for on the wall or under cabinet install
Input: 0.5 inch ID black tubing
Capacity: 3.5 cups per chamber - Can vary depending on grain size.
Recommended Pump: Cobalt Aquatics MJ1200 (Not Included)
Recommended Media: Carbon and GFO media (Not Included)
View full details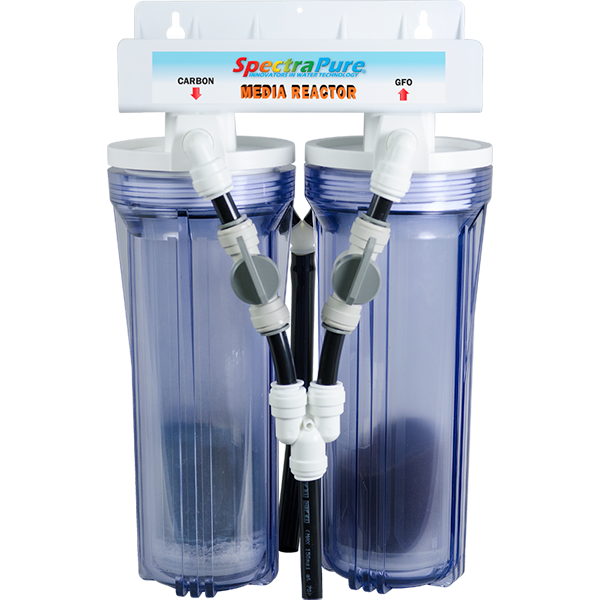 Spectrapure® Dual Chamber Media Reactor - MR-DUAL
Great Media Reactor
Great Media Reactor, well designed easy to change the media. There are two filter gaskets on the inside of each canister. The bottom filter is hard to change and would be much easer if the bottom of the canister unscrewed.
Media reactor
Superb, solid construction; I used to dread changing out media reactor but this makes it simple