Sku:

45-0006

Vendor: Spectrapure
SpectraPure® Coffee Lovers System 90GPD - CLS-90
Spend

$150.00

to

FREE SHIPPING
Did you know that when making the perfect cup of coffee, the mineral content in your water is just as important as the coffee beans you use? Here at SpectraPure®, we LOVE our coffee, so of course we had to come up with a system just to help other Coffee Lovers around the world create the best cup every time! So much so that we patented the technology! It's that good!

Our CLS-90 Coffee Lovers Water Filtration System is specifically designed for the demands of true Coffee Lovers. From Home Brewers to Coffee Shops, our CLS systems are the most advanced way to guarantee the best tasting coffee you've ever!


Incorporating a 90 GPD (gallon per day) production RO membrane and 4 stages of Pre and Post-filtration, our Patented Dual-Pass Remineralization Technology ensures a controlled pH and mineral content optimized for perfect beverage brewing and drinking!


Additional Coffee Lovers System Features:



Compact design, ideally suited for an under the sink, or wall mount installation for easy access and servicing

Dual TDS (total dissolved solids) meters to monitor input and output RO water quality

Passive permeate pump to ensure optimum water output flow from the included 4 gallon storage tank, with an air-gap faucet


The Coffee Lovers System reliably produces water having a TDS of about 50, and a pH of approximately 8

Deluxe high flow air-gap delivery faucet delivery

Dual pass technology for 7 virtual stages of effective filtration and water processing

SpectraPure's exclusive dual-pass technology (U.S. Patent# 7,303,666) purifies and remineralizes your water in two separate passes to make sure only the freshest and best quality water is used in your brewing applications, each and every time you turn on the faucet.

Each system comes with all the hardware needed for installation including fittings, standard adapters, a 4 gallon pressurized storage tank, necessary tubing and an installation manual.
View full details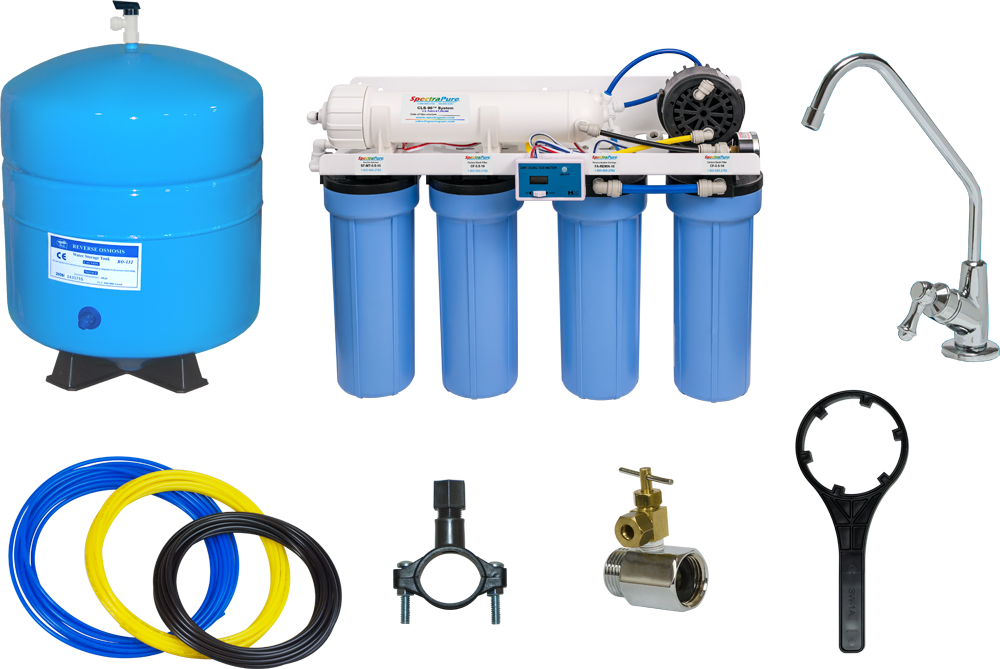 SpectraPure® Coffee Lovers System 90GPD - CLS-90
Coffee lovers 90
I am pretty happy with the system. Waiting for the system took about 2 month, quite a bit longer then I expected. But the spectraPure team is very responsive, and this little wait was not critical for me. The packing was great. The manual is good, but a little outdated, there are a few difference, one being drain sadle expecting 3/8 tube but the brine connector out of the system being 1/4. But not that big of a deal. Install went pretty uneventful. I put the filters under the sink. The tank didn't fit and I ended up hanging it on a basement ceiling and drilling through near the water pipe to connect the tube. There was enaugh tubing in the package to accomodate that. The water was rather milky and blackish for the fisrt few days, but it is extected. System works great now, I would recomend it.
Fantastic, really works
I thought it was a marketing gimmick but the water and coffee really do taste better!
Hasn't been delivered yet
Hasn't been delivered yet
COFFEE LOVERS SYSTEM MANUAL