Sku:

35-0013

Vendor: Spectrapure
Eliminator RO 150/300GPD Reverse Osmosis Systems - ELIM-RO-150-MF/300-MF
Spend

$150.00

to

FREE SHIPPING
SpectraPure® Eliminator® Hydroponic RO Systems are specifically designed for hydroponic vegetable and flower gardens. Purified water grows healthier, more beautiful and longer lasting plants than ordinary tap water. The Eliminator RO systems maximize nutrient uptake and stabilize pH for faster growth and greater yields, while eliminating up to 99% of contaminants harmful to plant growth. Your plants will flourish with our "better than rain" quality water.
SpectraPure® has been Manufacturing and doing Research & Development in the Water Purification Industry for over 30 years. We only do water. It's what we know. That's why some of the largest grows in the US use our systems. 
Don't waste money on expensive systems and filters from companies who just resell white labeled systems and don't know what they're selling. Trust SpectraPure to help your plants grow healthy and strong from seedling to flower!
SpectraPure® Eliminator® Hydroponic RO Systems FEATURES :
Single or Dual SpectraPure® 150GPD Membranes with 98% Stabilized Rejection

Pentair

® 

C1 Dual Purpose 5 Micron Sediment Carbon Filter for added removal of Chlorine

0.5 Micron Matrikx®PB1 Chloramine and Lead Removal Cartridge to consistently remove PFAS, Lead, VOC, Cyst, Chlorine, Chloramine, and other chemicals, as well as additional High-Capacity Sediment removal

Manual flush valve for longer membrane life
Automatic inline shut off valve saves water
In-line ball valve for manual flush
Float valve for unattended operation
Pressure gauge for monitoring pre-filter pressure
Durable, no rust mounting bracket
6 foot feed tubing, 6 foot product and waste lines included
Housing wrench for easy filter removal
Garden hose adapter for tap water hookup
1 year manufacturer's warranty
View full details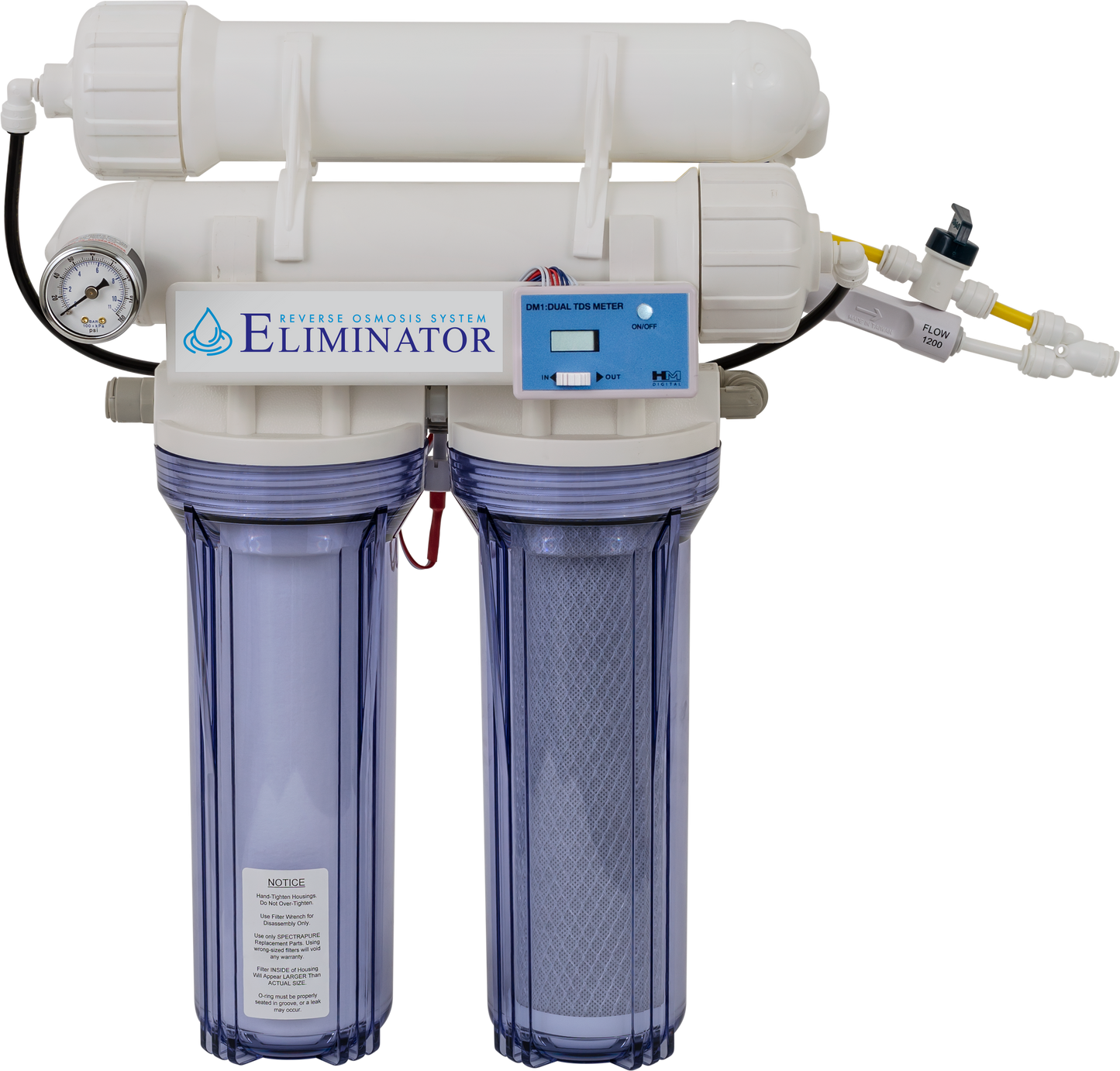 Eliminator RO 150/300GPD Reverse Osmosis Systems - ELIM-RO-150-MF/300-MF