Sku:

45-0021

Vendor: SpectraPure
SpectraPure® CSPDI Manual Flush RO/DI Systems - 90/150 GPD - CSPDI-90-MF / 150-MF
Spend

$150.00

to

FREE SHIPPING
SpectraPure® Low-Waste CSPDI 4-Stage RODI System w/ Manual Membrane Flush. Upgraded for 2022, the new CSPDI incorporates SpectraPure's individually tested, 99% ultra-high-rejection SpectraSelect™Plus TFC membrane, 0.5 micron Sediment & 0.5 micron Carbon Block Pre-Filtration Stages, a Super-DI™ SilicaBuster™ High-Capacity DI Cartridge, and a sturdy, powder-coated wall mount bracket. With the new 3-Probe TDS Meter, water purity levels are now monitored at the membrane feed, at the membrane output, and at the DI stage output, assuring "0 TDS" product water.
Periodic membrane flushing rinses accumulated impurities and concentrated waste water from the membrane surface. Feed valve, ASO valve, float valve, pressure gauge, and hose adapter are all included. Ultra-high-purity water at an economical price, CSP™ RODI purification systems maximize pure water production through application of our best TFC RO membranes and specialty deionization cartridges.
FEATURES:
High rejection thin film composite (TFC) Reverse Osmosis membrane*
Ultra pure water and extended membrane life
SilicaBuster™ DI cartridge with semiconductor grade resins
Long life - high efficiency 0.5 MicroTec micron sediment filter
0.5 micron carbon block pre-filter with 20,000 ppm-gal chlorine removal capacity.
Dual-probe TDS meter
Pressure gauge monitors membrane feed pressure and prefilter status
Clear filter housings
Durable, no rust mounting bracket
6 foot feed tubing, 6 foot product and waste lines included
Housing wrench for easy filter removal
Garden hose adapter for tap water hookup
Dimensions: 15 inch x 7 inch x 16 inch
1 year manufacturer's warranty
Membrane Information
90 GPD Systems = MEM-SP-0090
150 GPD Systems = MEM-SP-0150
Typical stabilized conductivity rejection 99%, min. conductivity rejection 98%.

Membranes produce rated GPD ± 20% at 60 psi.

Permeate flow and conductivity rejection based on 500 ppm, 77°F (25°C) softened water feed, 15% recovery and the specified applied pressure.
Warning: Spectrapure does not recommend drinking water produced from deionization (DI) as DI resins are typically not made of food grade approved material.
*RO and RODI systems that are installed areas with low feed-water pressure often require a booster pump to optimize system operation.
The correct Booster Pump to be used with SpectraPure's Manual Membrane Flush (-MF) RO or RODI Systems is SpectraPure's auxiliary High-Flow Booster Pump Kit P/N: BPHF-MF-115. This kit is designed specifically for use with SpectraPure Manual-Flush Systems. Other booster pump kits are not compatible with SpectraPure Manual-Flush (-MF) systems.
View full details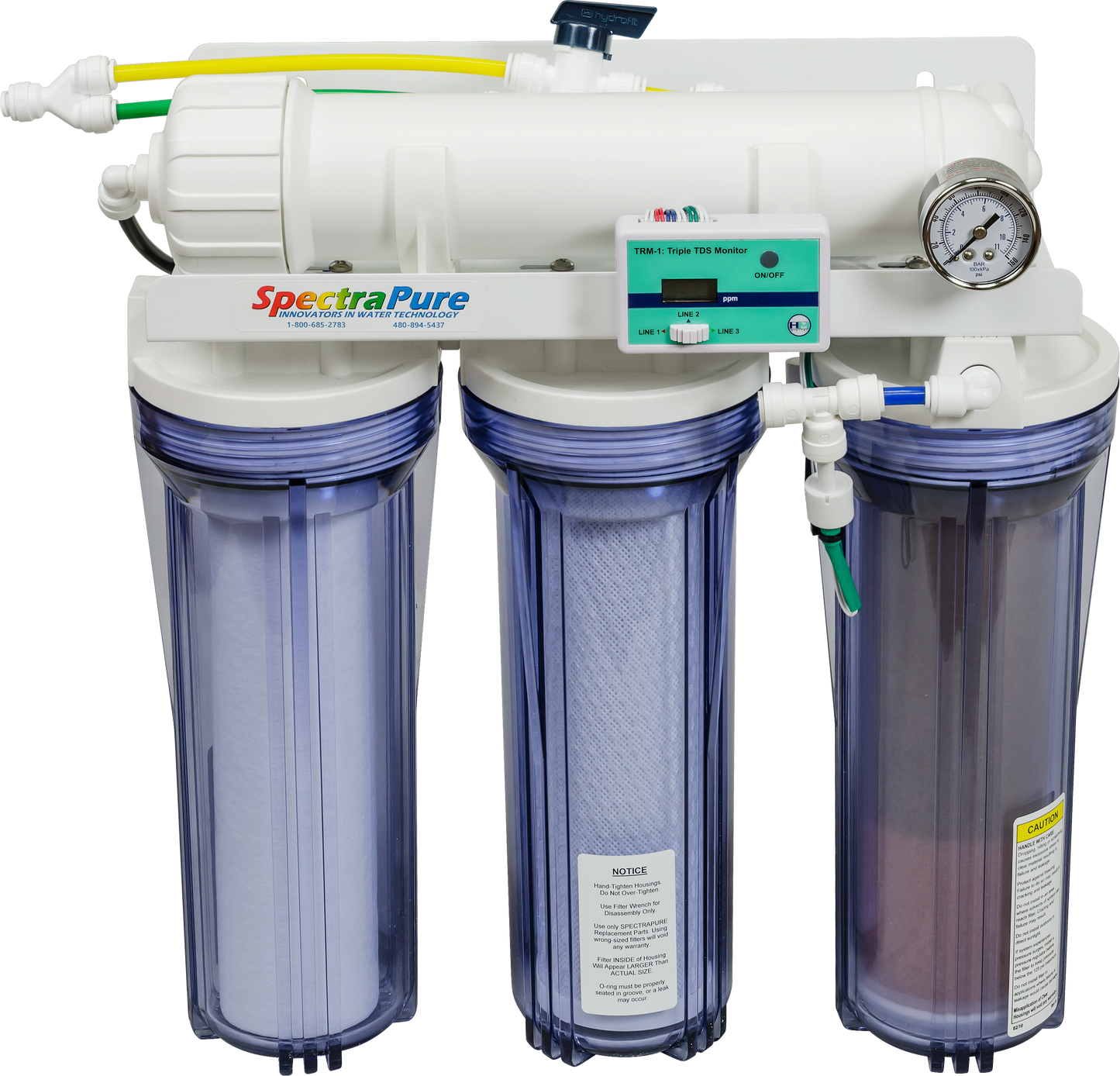 SpectraPure® CSPDI Manual Flush RO/DI Systems - 90/150 GPD - CSPDI-90-MF / 150-MF