Sku:

45-0019

Vendor: Spectrapure
SpectraPure® CSP Manual Flush 90/180GPD RO Systems - CSP-90 / CSP-180
Spend

$150.00

to

FREE SHIPPING
Description
OVERVIEW:
The SpectraPure® 90/180GPD CSP 3-Stage RO Systems incorporates a high-silicate removal TFC membrane, 0.5 micron MicroTec Sediment, and Carbon Block Filters. Inline Dual-probe TDS Meter determines the performance of the RO membrane. With the addition of a Manual Flush valve to prevent TDS creep, this system will keep you producing the purest water without high maintenance.
FEATURES:
- Single or Dual 90 gallon per day, high-rejection thin-film composite Reverse Osmosis membranes
- RO-pure water and long membrane life
- Long-life high-efficiency 0.5 micron MicroTec sediment filter
- 0.5 micron Carbon Block Pre-Filter with 20,000 ppm-gallons chlorine removal capacity.
- Dual-probe TDS Meter
- Pressure gauge indicates when to change prefilters
- Clear filter housings
- Durable, no rust mounting bracket
- 6-foot feed tubing, 8-foot product and waste lines included
- Housing wrench for easy filter removal
- Garden hose adapter for tap water hookup
- Dimensions: 14in x 6in x 15in
- 1 year manufacturer's warranty
View full details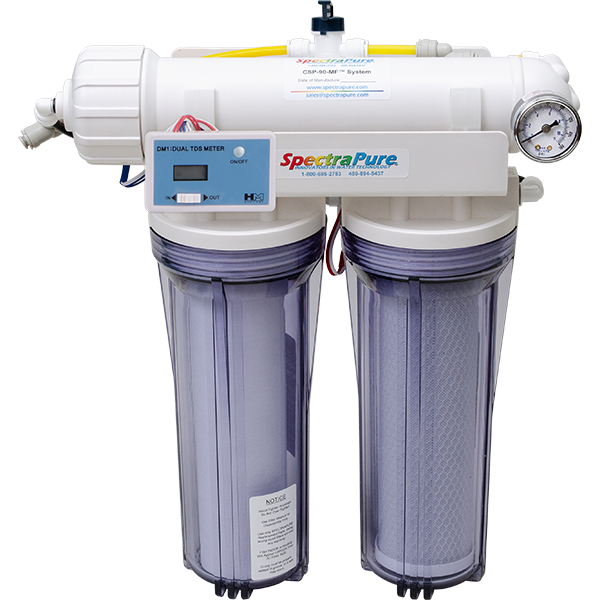 SpectraPure® CSP Manual Flush 90/180GPD RO Systems - CSP-90 / CSP-180
New replacement after 20+years
This unit replaces a SpectraPure RO system dated September 2002. The old system was still working but needed a new membrane and I wanted the added features and efficiency of the new SpectraPure unit. I am not disappointed. The new features such as the included pressure gauge and the TDS monitor were items I had to add last time. The system assembled quickly and worked immediately. No issues so far. Only the auto shutoff is still to be tested. I highly recommend.